Gatlinburg named top Thanksgiving travel destination | News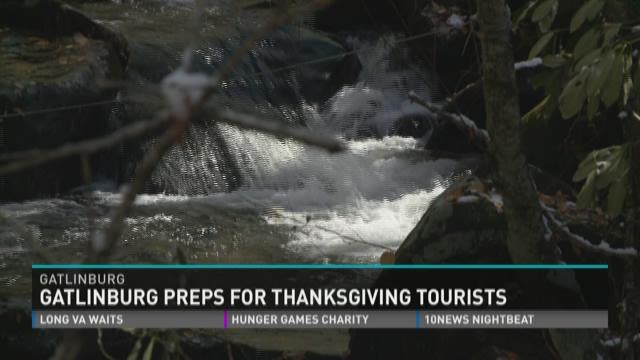 (WBIR- Gatlinburg) TripAdvisor recently named Gatlinburg in its top 10 most popular Thanksgiving travel destinations.
After the Great Smoky Mountains National Park had its highest number of attendance in October in 27 years, the city of Gatlinburg is preparing for an influx of people over Thanksgiving weekend and the holiday season.
"Between the weekend of Thanksgiving and New Years, it just is off the chart," Marci Claude, public relations manager for Gatlinburg Convention and Visitors Bureau, said. "We've got Winterfest celebration. We've got the 40-foot-tall light displays from one end of town to arts and crafts communities so it's absolutely beautiful."
To encourage visitors to buy local products, Claude said the Chamber of Commerce is sponsoring a "Small Business Saturday" campaign the day after Black Friday.
"In Gatlinburg, small businesses are what makes up our tax base," she said. "It's the economic back bone for Gatlinburg."
Claude said all the specialty retail shops that sell unique, one of a kind gifts are what makes Gatlinburg so unique.
"All of the little stores in Gatlinburg provide a unique shopping opportunity for our visitors," Claude said. "It gives them an opportunity to take home something that you won't find necessarily anywhere else."
John Yaksic owns Lazy One of Gatlinburg and two other small businesses in the area. He said his stores are always busy during the days after Thanksgiving, but it helps to have the support from the Small Business Saturday campaign.
"It's extremely busy, there's no doubt about it," Yaksic said. "Over that couple 3, 4 day weekend, we do get a lot of out-of-towners, a lot of tourists come to town."
Kate Barido, director of sales and marketing at Ober Gatlinburg, said they are hoping the snow brings tourist up to the mountain over Thanksgiving.
"It's the time up at Ober Gatlinburg we actually can have snow when there isn't any snow anywhere," Barido said.
Next Saturday, Ober Gatlinburg will open up its snow tubing to the public, and they have been working hard to create snow using their snow magic machine for the slopes, Barido said.
"Snow is fabulous," Barido said. "It's only here for a few months out of the year, and it's actually pretty enjoyable when you are able to play in it."
Claude said there's something for the whole family to enjoy in Gatlinburg, which is what makes it an attractive destination for Thanksgiving.
"We're dressed up for Christmas," she said. "There's shopping. There's activities, and if you're lucky, it'll snow."