Hwy. 66 delay means more headaches for drivers, businesses | News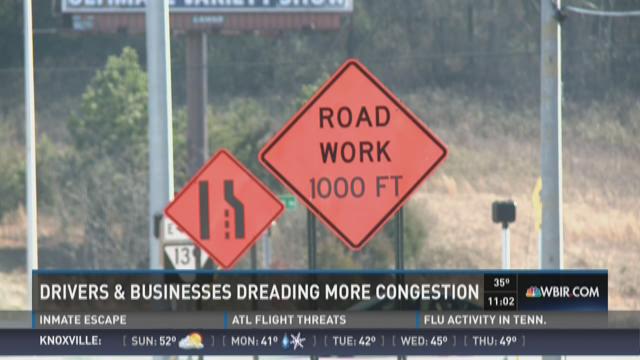 Drivers and businesses along State Route 66 in Sevierville are gearing up for another 11 months of road construction and major traffic congestion.
Earlier this week, the Tennessee Department of Transportation announced another delay to completion of the Great Smoky Mountains Parkway Improvement Project. That's a three-phase project designed to improve a four-mile stretch of road between I-40 and downtown Sevierville. It began in July of 2009.
TDOT is now saying instead of its most recently projected completion date of April, the project may now wrap up as late as Dec. 31, 2015.
The third and only-remaining phase of this project kicked off in March of 2012, and people along that particular 2.2-mile stretch of the project say it's been a long three years.
Travelers along State Route 66 in Sevierville these days may experience relatively free-flowing traffic, but come tourism season, that's a different story.
David Stevens is an employee at Workshop Tools: a store in a strip mall right on State Route 66. He said the busy season generally stretches from March through September.
"With the flow of traffic reduced because it being two lanes and, you know, all the construction - sometimes it knocks it down to one lane," Stevens explained, "so you've got traffic backed up all the way from here to the interstate, which is quite a few miles."
He said the prolonged construction these past three years has hurt business.
"It's pretty bad for a lot of customers because they don't want to pull off and then, you know, go to the store and then have to get back in that traffic," he said.
The project's original completion deadline is already past due. Stevens showed 10News a sheet of paper he has kept at the store for three years. It's an Improving 66 Phase III fact sheet the store received early in 2012. It said, "the project completion date is October 31, 2014."
Brad Oakley works a couple of stores over, in the same strip mall, at Lodge Cast Iron Cookware. He lives in the area and drives to work.
"It's frustrating. It's annoying," he said. "They promised that they were going to have it done in this year and they just keep taking it back farther and farther."
As someone who lives nearby, he's sick of the congestion. From a business perspective, however, he says the traffic has its benefits.
"It definitely impacts the business here. I mean, it brings a lot of people in because they're tired of being in their cars," Oakley said. "I guess people from out of town that are sitting, waiting to go back home that didn't even notice some of these places were around here, and they'll go and they'll come in, just check it out."
He estimated about 25 people come into the store each day due to the traffic.
His business-related perspective certainly differs from his personal one.
"It's ridiculous," he said, describing midday traffic. "If you want to go get something for lunch on your break, it's not happening. Not even Taco Bell, which is, like, two minutes away."
Stevens said he and his store are just bearing with traffic and hoping for the best once the project is done.
"We've been dealing with it since 2012, and, I mean, it's not really done any good for us yet," Stevens said. "Hopefully, when it gets done, business will pick up and traffic will be much better so we're able to get more customers in here."
Until then, it looks like traffic will be backed-up and bumper-to-bumper for one more tourism season in Sevierville.
TDOT said the project - once completed - should alleviate congestion. When it's done, that stretch of State Route 66 will go from two lanes in each direction to three, with a wide shoulder and sidewalk on each side, plus a raised median.
TDOT's website on the project is HERE.
Twitter updates on the project are HERE.